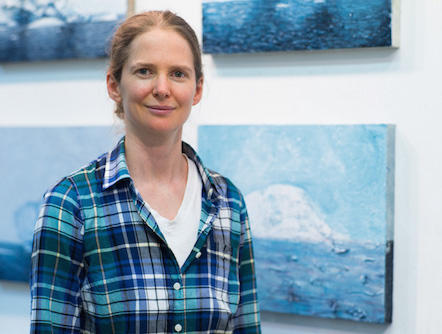 Jennilie Brewster's essays, interviews and poems have appeared in Catapult, The Rumpus, Armchair/Shotgun and Word Riot. As a visual artist Jennilie has collaborated with people of all ages and backgrounds on installations made from discarded objects. ​Her Newspaper Series was the inspiration and screen projection for the theater piece 64, featured in the 2012 Spring Artist Lodge at HERE Arts Center in New York. Jennilie has received fellowships from the Lower Manhattan Cultural Council, the UCROSS Foundation, the Headlands Center for the Arts and the Santa Fe Art Institute, among others. She is the Vermont Studio Center's 2016 Swann Fellow, given to a writer who is also a painter.
In 2019 New York State Assembly Member Rebecca Seawright honored Jennilie as a "Woman of Distinction" for her work with the arts-and-justice initiative OPEN DOORS, which Jennilie founded in 2016. Based in NYC Health + Hospitals/Coler, OPEN DOORS supports the creativity and leadership of people who have been harmed by gun violence and inspires action for safer, more just communities. In 2019 OPEN DOORS published Wheeling & Healing: A Poetry Anthology Edited by OPEN DOORS Reality Poets and produced the play FADE, which premiered at the Main Street Theatre on Roosevelt Island in June.
Jennilie holds a BFA from the School of Visual Arts (2002), an MFA from the Milton Avery Graduate School at Bard College (2007) and a Foundations Certificate from the New York Zen Center for Contemplative Care (2015). She lives on Roosevelt Island in NYC with her partner Rob Battles who also writes things and you can read here.